The nerve center of the art world moved to the United States after the second world war and the early pioneers of that movement were the Europeans leaving their war ravaged country and taking their masterpieces with them.
Over the years, New York City has emerged as the leading city in America regarding art and its expressions. The city has the most number of art galleries. These galleries exhibit artwork from both the traditional movement to the more modern and contemporary art forms including books, photography and films.
Abby Aldrich Rockefeller Sculpture Garden
This beautiful garden has a large fountain in it. It is a tourist attraction as the tranquil nature attracts visitors yearly in their thousands.
The Fields Sculpture Park
This sculpture park has a huge land with over 70 sculptures from international artists. The park holds exhibitions throughout the year and shows its permanent collections. The park also holds lectures as well as concerts.
Griffis Sculpture Park
The park has over 400 acres of land and features over 200 sculpture works. The park was founded in 1966 by Larry Griffis Junior to help promote art through sculpture. The large landscape also makes it a great place to hold weddings and concerts.
Nassau County Museum of Art
This park has over 40 art pieces by contemporary artists and loaned works from the Metropolitan Museum of Art and the Museum of Modern Art. The Nassau County Museum was bought by Henry Frick for his son and wife who loved botany.
The Noguchi Museum
The museum is owned by Isamu Noguchi who wanted a place to showcase his artwork to the public. The outdoor garden has his sculptures.  The museum also has an indoor gallery for Noguchi's works as well.
Opus 40 Sculpture Park
The Opus 40 sculpture park was designed by Harvey Fite. It is a sculpture park that took over 30 years to complete. It is a gigantic monument of stone that has paths and archways. Harvey Fite's work tools are also displayed there.
Socrates Sculpture Park
The Socrates Sculpture Park is one of the only parks that cater to up and coming large scale sculptors and installations. The park was formed by a group of artists in 1986. Socrates Park also exhibits works of emerging artists.
Stone Quarry Hill Art Park
This park sits within 104 acres of land in Madison County. The park exhibits works from both professional artists and the emerging artists. The park is serene with permanent collections that inspire visitors.
Storm King Art Center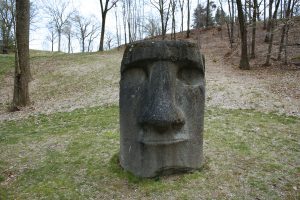 Storm King Art center was named after the mountain near it. The Storm King Art center was opened in 1960 and has over 100 sculptures from professional contemporary artists including Roy Lichtenstein and Alexander Calder.
Sculptures are a big part of the New York City design and lifestyle.  The City's different terrain makes it an ideal ground for sculpture parks and the rich art culture and modern approach attracts modern artists from around the world.